Calendar of Events
Rock the Boat on tour
April 10: The Yard
HERE
Voices of Community
Jaghetto - Livestream of Just Another Lynching and and Artist/Audience conversation
May 22 7 PM ET
Panel Discussion Reflecting Vermont Back to Itself: Arts, Race, and Intersection of Realities In & Out of Vermont facilitated by Shanta Lee Gander
May 23rd, 4PM ET HERE

Summer Intensive Puppetry Training
July 11 - 24, 2021
HERE

News
"The only thing worse than the feeling of paranoia is the sickening realization that it's not paranoia after all.
--Jiayang Fan, "The Atlanta Shooting and The Dehumanizing of Asian Women", The New Yorker, 3/19/2021
Soon Chung Park age 74
Hyun Jung Grant age 51
Sun Cha Kim age 69
Yong Ae Yue age 63
Delaina Ashley Yaun age 33
Paul Andre Michels age 54
Xiaojie Tan age 49
Daoyou Feng age 4
We must say their names.
We must understand that racism and sexism are inextricable from each other.
To take action, consider signing the Asian Americans Advancing Justice Action Alert found here.

What does Equity in the Arts look like? These are the steps that Sandglass is taking HERE
Click HERE to read this National Performance Network article by Shoshana Bass
Current newsletter HERE
Rock the Boat
Summer Intensive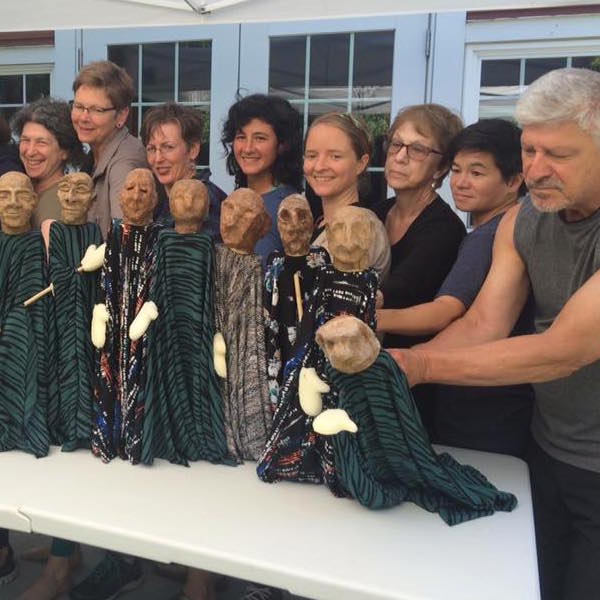 Voices of Community
Funders
Sandglass Theater is supported by the New England Foundation for the Arts through the New England Arts Resilience Fund, part of the United States Regional Arts Resilience Fund, an initiative of the U.S. Regional Arts Organizations and The Andrew W. Mellon Foundation, with major funding from the federal CARES Act from the National Endowment for the Arts.
Sandglass Theater operations are supported by the generous contributions of The Bay & Paul Foundation, Chroma Technologies, The Clowes Fund, the Jim Henson Foundation, the McKenzie Family Charitable Trust, the National Endowment for the Arts, the National Endowment for the Humanities, the Vermont Arts Council, the Vermont Humanities Council, the State of Vermont Emergency Grant and individual donors. Please also see our project pages for additional acknowledgements for project specific funding.