Calendar of Events
Bringing Puppets to Life: Performance Workshop
September 14 - 18
Outdoors at Sandglass: Walkthrough Gallery
September 26 & 27, 2 - 5 PM
Family Puppet Craft Videos
News
This is a challenging time for arts organizations, not only because of the coronavirus, but also because social and racial injustices against Americans of color are escalating at a level of national and cultural crisis. Today's theaters and cultural institutions are – and need to be – engaged in the active fight against this injustice and its deep roots in our culture and in our systems of access and equity. Most of us, including Sandglass, have not met the needs of engagement sufficiently, and need to rise to the moment. Indeed, for much of our country, the MOMENT has been there for most of our history. Rather than ask what took us so long? Let's just ask what we can do NOW. How can our organizations deepen our engagement and our self-examination? How can we act, free of justifications for our limitations, but full of commitment to confront and change our policies, practices, and, yes, prejudices.

Responding to the call for equity by rounding up protesters and throwing them in unmarked cars is not the answer in a democratic society. Black Lives Matter is a statement of Equity. What does Equity in the Arts look like? These are the steps that Sandglass is taking HERE
Current newsletter HERE

Bringing Puppets to Life: A Performance Workshop

Walkthrough Gallery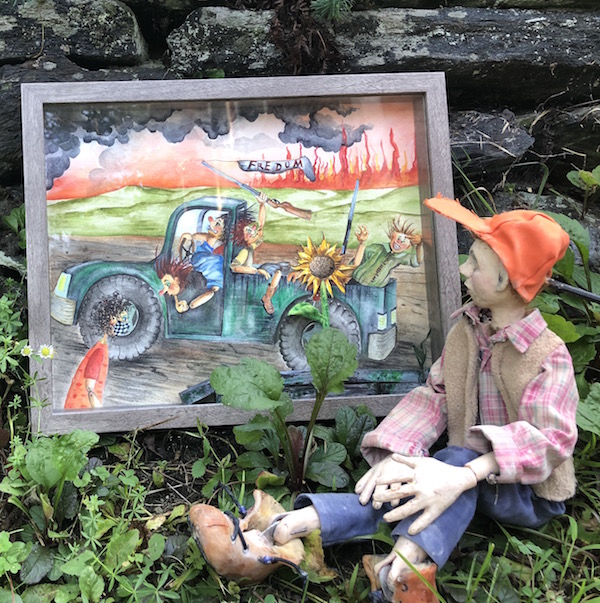 Artist and Organization Spotlight
Artists and performance organizations are busy these days making performances, workshops and their art available online. Here we feature what is happening now by various artists and organizations that we have worked with, presented and just plain love. We invite you to check them out and support their works!
Founded in 2009 by husband and wife duo Z. Briggs and Chad Williams, and long-time friends of Sandglass, WonderSpark Puppets performs original and classic stories for audiences of all ages. Their work, named "Best Puppet Theater in NYC" by TimeOut New York Kids', is now available for streaming on a variety of platforms. Birthday Parties, Live Performances and Adventures, Workshops. To get started visit their website or the Facebook page and join the fun.
Sandglass Theater is supported by the New England Foundation for the Arts through the New England Arts Resilience Fund, part of the United States Regional Arts Resilience Fund, an initiative of the U.S. Regional Arts Organizations and The Andrew W. Mellon Foundation, with major funding from the federal CARES Act from the National Endowment for the Arts.
Sandglass Theater operations are supported by the generous contributions of The Bay & Paul Foundation, Chroma Technologies, The Clowes Fund, the Jim Henson Foundation, the McKenzie Family Charitable Trust, the National Endowment for the Arts, the Vermont Arts Council, the Vermont Humanities Council, the State of Vermont Emergency Grant and individual donors. Please also see our project pages for additional acknowledgements for project specific funding.