Oma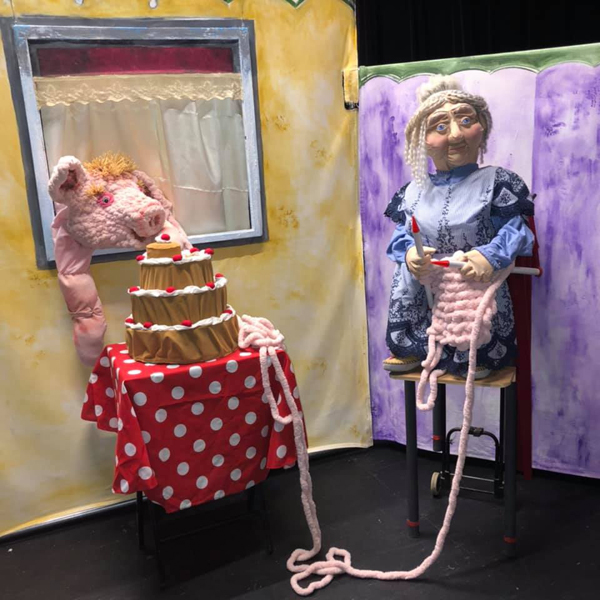 About the show
Oma says that knitting is not just pom pom hats and sweaters. Oma's knitting contains whole stories! This new family show by Shoshana Bass and Jana Zeller is an intergenerational tale that revolves around Grandma or "Oma." It is her birthday and all are preparing for the celebration. While the grown-ups manage work phone calls, playdate logistics and other such tasks, the children get into mischief with party decorating, present wrapping, cake baking. Finally they all gather around for one of Oma's stories told in yarn. One character emerges from the tangle of wool and nearly ruins the party. But not to worry, all ends well at Oma's house.

Oma is for audiences Pre-K - 4th (ages 4 - 9/10)
Created, built and performed by Shoshana Bass and Jana Zeller
Directed by Ines Zeller Bass
With music composed by Molly Gawler.

Contact us to learn more about bringing Oma to your community.
What audience is saying
"I thought it was funny, entertaining and great. Your acting was really good. Oma's birthday is the best show I have ever seen in my life !!!!!!!!!!!!!!!!!!!!!!!!!!!!!!!!!!!!!!!!! I love it so much!!!!!!!!!!!!!!!!!!!!!!!!!!!!!!!!!!!!!!!!!!!!!!!!!!!!!!!!!!!!!!!!!!!!!!!!!!!!!!!!!!!!!!!!!!!!!!!!!!!" -- Nina Violet, The Grammar School, 3rd Grade
"...thank you for the invitation to the Sandglass Theater's recent performance of Oma here at school. Our pre-k class was absolutely beside themselves! I loved watching the childrens' outbursts of laughter at the hilarity of certain scenes, and their rapt and earnest attention to the story as it unfolded. They clearly loved the show, as did the teachers. This performance was one of the best things I've seen at TGS in all my [many] years teaching. Such a joy! Please thank the artists, from all of us!" -- Kan Brautigam, Preschool Teacher, The Grammar School
Thank you to our funders
This project is partially funded by grants from The Jim Henson Foundation and the Puppeteers of America Rose Endowment Fund, and the SBA Shuttered Venues Operators Grant.