This one-woman show, written by Yadav and directed and developed by Patrick Crowley, is based on the stories of families at Washington D.C.'s Arthur Capper/Carrollsburg public housing projects – nicknamed 'Capers – who protested the government-funded demolition of their neighborhood.
During our VOC week, award-winning Haitian-American slam poet D. Colin was our poet-in-residence, doing workshops with local schools and in a special meeting of southern VT teens and the Brattleboro police.
A week-long community workshop on Race, at Brattleboro High School, Putney Central School, and with the Brattleboro Police Department, using story-circles and performance techniques.
Sandglass Theater and Vermont Performance Lab joined forces to bring and Mondo Bizarro to Vermont. The theater ensembles teamed up to celebrate the people and cultures of South Louisiana while turning clear eyes on the crisis of the vanishing coast. Part song, part story, and part procession, the outdoor performance of Cry You One is a powerful musical and theatrical journey about the affects of one of our country's worst environmental disasters, hurricane Katrina, and its relevance to Vermont's stories of Irene. 11 theater artists, cajun style African inspired musicians, on-site designers took up residence in southern Vermont present their site-responsive piece the fields guilford, VT engage several local schools through workshops performances.
Lenelle Moise: Womb-Words, Thirsting

Northampton, MA
Lenelle is a traveling poet, award-winning playwright and solo performance artist who creates jazz-infused, hip-hop bred, politicized texts about Haitian-American identity, creative resistance and the intersection of race, class, gender, sexuality, memory and spirit. Mixing a brew full of womanist Vodou jazz, queer theory hip-hop, spoken word, and song, Womb-Words, Thirsting is an interactive performance of patchwork poetic storytelling delivered, slam-style, from the gut. Haitian-American solo performer Moïse, re-conceives memory, dances revolution and reclaims F-words. She channels protective parents, first girl crushes, tough neighbors and the fiercely divine feminine. Womb-Words, Thirsting is an illuminating, empowering and hilarious evening of theatre about growing up immigrant, working-class, politicized and queer.
2012
Kristina Wong: Going Green the Wong Way

Los Angeles, CA
In her quest to pursue sustainable living, Kristina Wong purchased a 1981 pink Mercedes that ran on vegetable oil, and endured a nightmare of never-ending car repairs and near death pursuits for the used cooking oil to fuel it.When the car finally burst into flames on an L.A. freeway, Wong lost the largest line item in her monthly budget, and gained the inspiration for this production. Going Green the Wong Way brings our contemporary urban environment to life, revealing just how tricky it is to "do the right thing."
Sara Felder: June Bride

San Francisco, CA
A Jewish Lesbian wedding – with juggling. Sara takes us from an awkward first date to the culmination of the wedding ceremony -- the shattering of the wine glass under the wedding canopy. In between, we meet the reluctant parents, the blissful brides, and the ageless spirit of the Jewish tradition. The questions remain: Will their parents attend the wedding? Will their marriage be accepted by the Jewish faith? Will the brides both wear wedding gowns? June Bride has delighted audiences in nearly 30 cities in North America and Europe. The show features 3 ball juggling, compelling rhythms, sharp knives, colorful scarves, a rhyming poem, a crystal ball, and, we hope, a strait jacket escape.While public discourse on civil law and religious ceremonies in regard to same-sex marriage continue to grab headlines, June Bride enters this conversation with a provocative and hilarious story of family, tradition and marriage in modern America.
D'Lo: Ramble-ations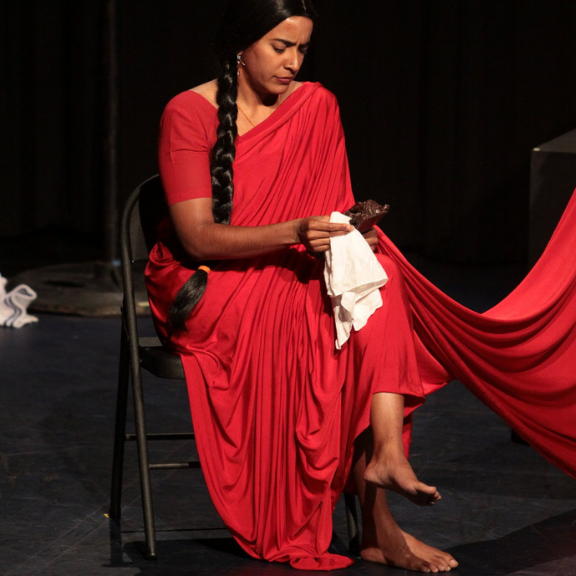 Los Angeles, CA

D'Lo is a queer/transgender Tamil-Sri Lankan-American actor/writer/ comedian whose work ranges from stand-up, solo theater, plays, films, and music, to poetry and spoken word. In "Ramble-Ations," D'Lo performs a personal story from the cultural intersection of queer, Hindu, hip-hop and family relationships. As America debates the state of its borders and threat of mass immigration, "Ramble-Ations" reminds audiences of the cultural tensions and synergies that define and affirm us as a nation. D'Lo grew up queer in a Hindu Sri Lankan family in Los Angeles County while immersed in hip-hop youth culture. This potpourri of influences, often at odds with each other, serves as the basis for the uproarious parade of characters D'Lo brings to life. Perhaps the most poignant role D'Lo plays is his everyday self, eloquently speaking about coming out to family and carving a place in the world.

2010

Universes: Live from the Edge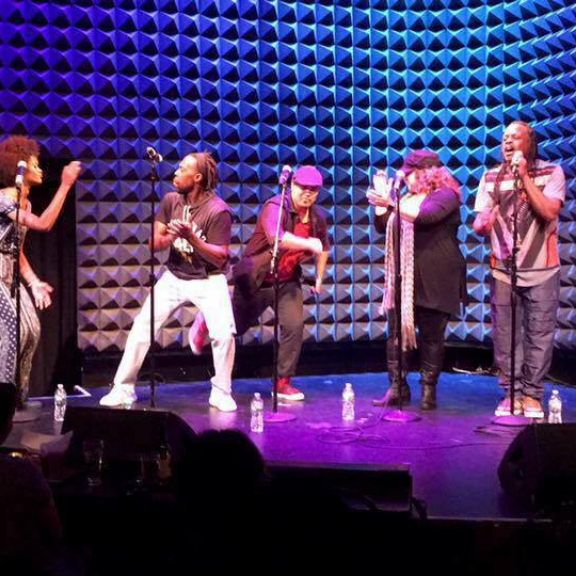 Bronx NYC (now Ashland, OR)
New York City's Universes experimental theater troupe, a four-piece ensemble melding slam poetry and theater through elements of jazz, hip-hop, blues, Spanish bolero, political analysis and reminiscences of the sights and sounds of urban ethnic childhoods. Steven Sapp, his wife, Mildred Ruiz-Sapp, and her brother, William Ruiz, along with Gamal A. Chasten draw deeply from their roots as African-Americans and Puerto Ricans growing up in the Bronx and Manhattan's Lower East Side, in step with the swirl of personal and global perceptions and struggles that accompany such. Universes is a grassroots journey through intelligent words and emotive movement that has sustained itself financially, gathered high critical praise and lofty theater commissions, and performed nationwide and in Columbia for the past 12 years.
2009
Robert Karimi: Self: The Remix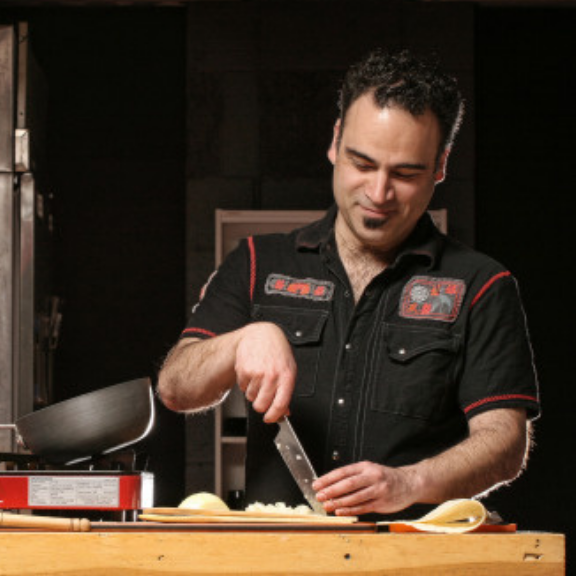 Culver City, CA
Self (the remix) is a spoken-word, hip-hop play that mixes together stories, movement and music to tell the tale of an American child of Iranian and Guatemalan immigrants growing up in California in the 1970s and 80s in the shadow of the Iranian Hostage Crisis. Acclaimed playwright and performer Robert Farid Karimi, accompanied with a soundscape created by Filipino DJ D Double, tells a "remixed" autobiographical tale of a boy struggling to learn about manhood, nationhood, and neighborhood with the voices and music of his environment helping him along. Storyteller and performance artist Robert Karimi knows a lot about the mixing and melting of different cultures. He's the first generation child of Iranian and Guatemalan immigrants to the U.S. and, what's more, he started school in California during the Iranian hostage crisis.
Lyena Strelkoff: Caterpillar Soup

Los Angeles, CA
On Oct. 4, 2002, dancer-actress Lyena Strelkoff fell from a tree, breaking her back, rendering her a paraplegic. Moving her wheelchair freely about the stage, the comely, spirited Strelkoff details every aspect of the accident that robbed her of her plans and ambitions, followed by her straight-ahead battle during the ensuing two years to have a fulfilling life.
2008
Anisa George: Khouraji/Foreigner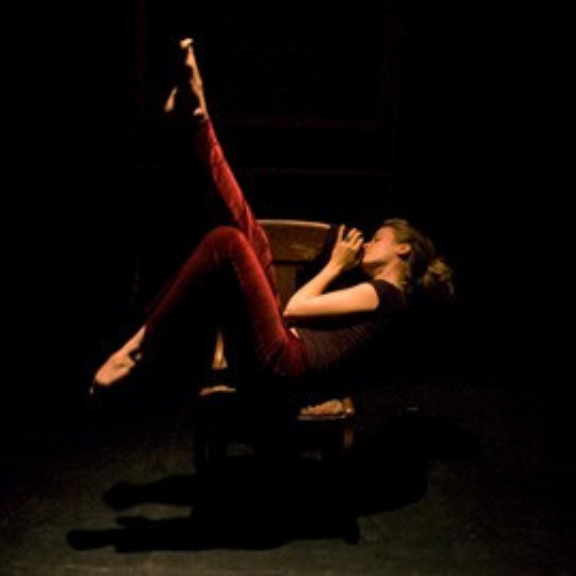 Bethlehem, PA (now Philadelphia)
A young American woman travels alone from Pennsylvania to Iran in search of her spiritual roots." George bravely and beautifully tells her account of being Baha'i and of her search for God in a country where her faith was founded and is now forbidden. Her odyssey balances humor and sorrow with punchy and poetic words and universal questions of faith.
Anida Yoeu Ali: Living Memory/Living Absence

Chicago,IL (now Seattle, WA)
Cambodian-Muslim-American Ali grapples with the compelling themes of memory and exile, and the pain of these experiences within the bodies of genocide survivors.
John O'Neal (Junebug Productions): Don't Start Me to Talking or I'll Tell You Everything I Know

New Orleans, LA
The founder of the Free Southern Theater during the Civil Rights era tells six bittersweet tales of his boyhood in the cotton fields of Pike County, Miss.; coming-of-age stories filled with humor, and touching anecdotes about leaving home and growing old.John is also the creator of the Story Circle, and ran sessions at the homeless shelter in Brattleboro.
Lynn Manning: Weights

Watts, LA California
A return engagement of this performance presented in 2007.
2007
Thingumajig Theater (Andrew and Kathy Kim): Vertigo of Sheep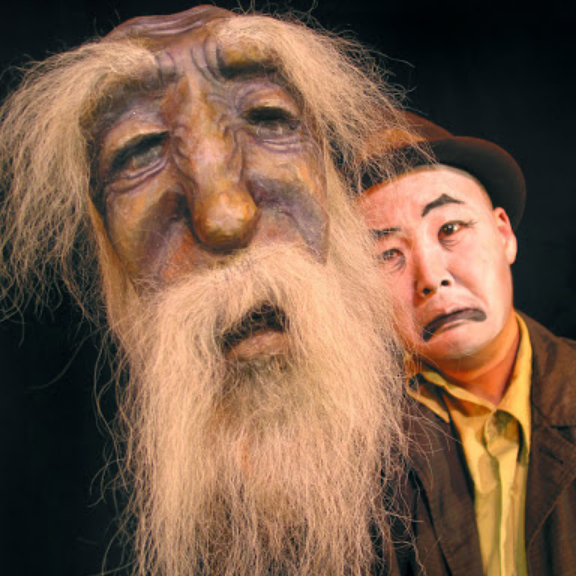 Minneapolis, MN and England
A well-meaning but unreliable clown attempts to come to grips with the Book of Genesis. Will Abraham pass the test? Were Adam and Eve set up? And should we take Lot's tale with a hefty pinch of salt? Join us in this Old Testament romp with Clyde, his diminutive alter-ego, and his musical assistant, Claudia. Through household objects, puppets, physical theatre and live music, Thingumajig Theatre creates a world where profane objects are sacred and the sacred is hilarious.
Lynn Manning: Weights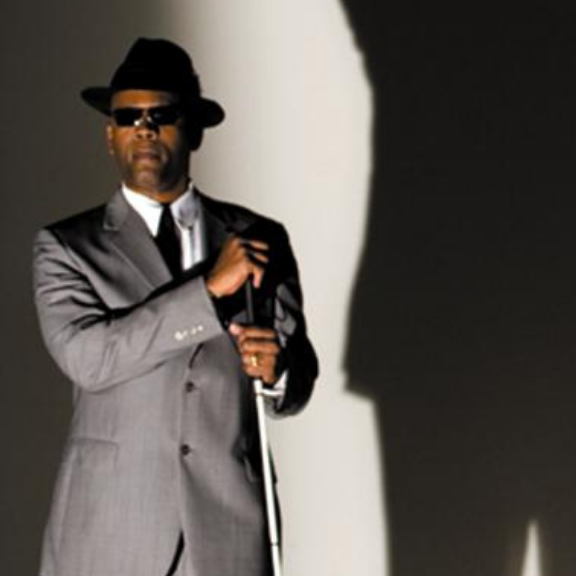 Watts, LA California
Lynn Manning was shot in the head during a fight in a Hollywood bar at the age of 23. The bullet left him blind. Manning contradicts the 'tragic but brave' notion that coming to terms with blindness is an ordeal that takes years. Three weeks after leaving hospital he was keen to pursue his dreams and follow an academic career. His rehab counsellor had other ideas. Insisting that there had to be a problem with Manning's attitude, the counsellor offers him a future of selling lottery tickets. If he is lucky he might open his own vendor franchise, eventually. Undaunted Manning perseveres. He can no longer fulfill his dream of becoming a visual artist but he can learn to 'paint with words'. 'Weights' weaves and spins the storytelling around the juxtaposition of poetic phrasing and rhythmical imagery. Poems like 'Magic Wand' are central pivots for finding the language to express the profound metamorphosis Manning went through: From black man to blind man - white man's burden to everyman's burden.
Coatlicue (Elvira and Hortensia Colorado): Caracol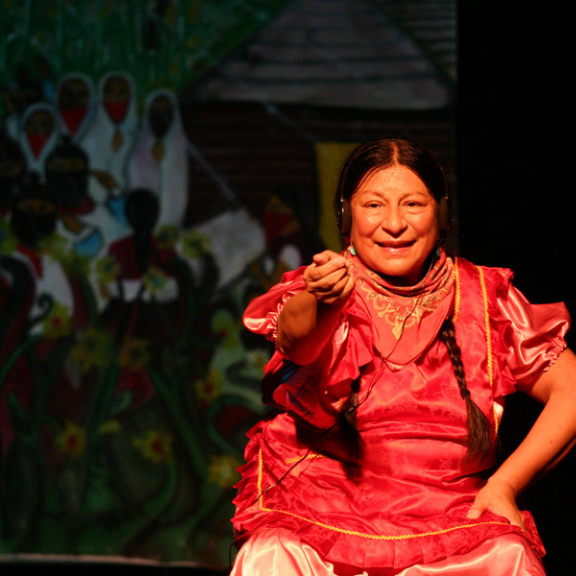 New York Cit, NY
Elvira and Hortensia Colorado (Chichimec/Otomi) tell survival stories. As youngsters, they survived performing traditional Mexican dances in Blue Island, Illinois, in curly Toni Home perms with yarn braids plastered to the sides of their heads. Later on, in New York City, they survived the sixties as struggling young actresses in Joan of Arc hairdos. They survived experimental theatre, they survived Broadway. They survived television, they survived street theatre. Finally, the two sisters grew up to become the writers, storytellers and actors known as Coatlicue Theatre Company. Their existence is a testament to the concept of survival.
M.U.G.A.B.E.E (Carlton Turner and Maurice Turner): Batteries in the Killing Machine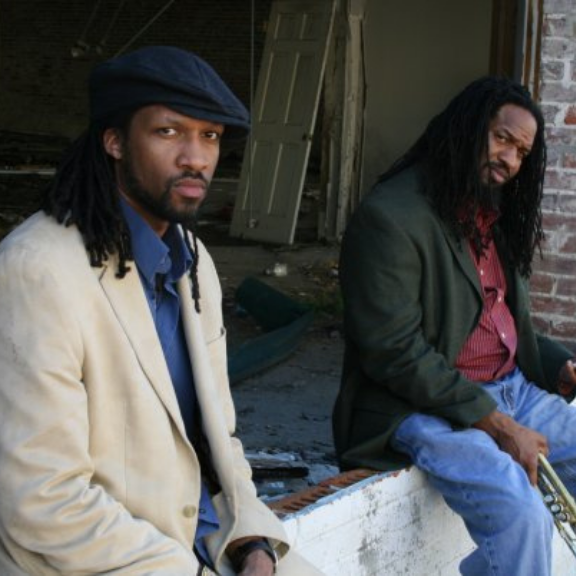 Raymond, MS
A new full-length theater piece by the men who performed Scenes from World Domination in 2005. See description below.
2005
Shishir Kurup: Assimilations & Sharif Don't Like It

Los Angele, CA
Shishir is an actor, director, writer, and composer, and a founding member of LA'sCornerstone Theatre Company. His solo performance piece " sharif don't like it" examines the fallout from USA patriot act and disappearance of over two thousand south asian arab muslims.
M.U.G.A.B.E.E (Carlton Turner and Maurice Turner): Scenes from World Domination

Raymond, Mississippi
M.U.G.A.B.E.E. (Men Under Guidance Acting Before Early Extinction). M.U.G.A.B.E.E. is a performing arts group that blends together jazz, hip-hop, spoken word poetry, and soul music with non-traditional storytelling. Carlton Turner is co-founder and co-artistic director, along with his brother Maurice Turner.Carlton has served as the Director of Alternate Roots and is the founder of Mississippi Center for Cultural Production (SIPP Culture) inRaymond, Mississippi.
Cultural Odyssey (Rhodessa Jones and Idris Ackamoor): Potpourri Noir

San Francisc, CA
Potpourri Noir is a stark feminist statement about the brutal psychological as well as physical and verbal sexual traumas heaped on women by marauding men, presented with admirable candor by the Rhodessa and up backed up by Idris, who can also tap dance and play sax at the same time.