Rock the Boat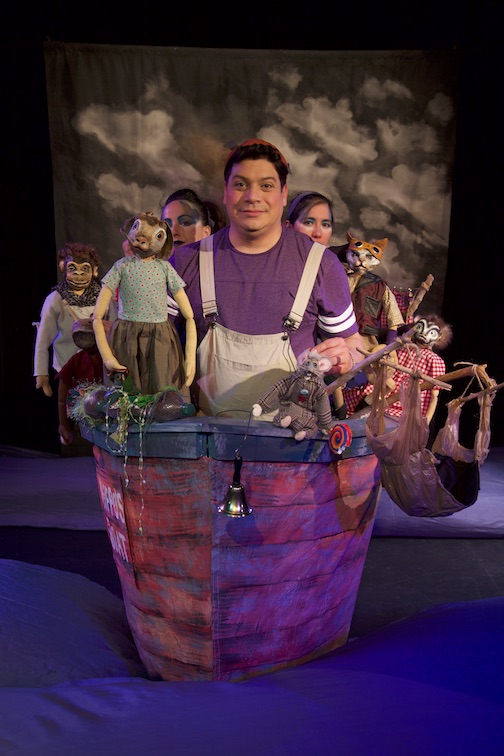 About the show
Rock the Boat, a touring puppet film for young audiences grades Pre-K through 5th, is available in Spanish and English. This show aims to get young audiences thinking about relocation, displacement and the inter-connectedness of racial, climate and social justice. The production addresses attitudes about acceptance of those who come from other countries and cultures, and provides a narrative in which there is room for everyone in an inclusive society. This film may be paired with online workshops and class visits by ensemble artists (please note that workshops and artist visits are in English only) to create a residency package for your school.
A Poet in a boat, alone at sea, is stuck in a rut of writer's block. While observing his daily routines, he suddenly finds his home filling with new characters seeking shelter and safety. Through evocative visual scenes, we learn that each has fled some disaster: war, fire or flood. As the newcomers and the Poet navigate life together on the vessel, they meet conflict, generosity, kindness and questions about who each other are. The Poet's poems become richer and deeper, and the unlikely collection of beings learn to steer threatening waters together.
Rock the Boat was developed by a multi-ethnic ensemble including slam-poet D. Colin, composer Julian Gerstin and students from two elementary schools in Southern Vermont. Work with students included workshops in poetry, listening practice and music led by members of the creative team. The student's voices contributed to the script, development of a study guide and touring residency model.
Directed by Eric Bass
Performed by Shoshana Bass, Kalob Martinez, Kaitee Yaeko Tredway
Poetry by D. Colin
Translation by Roberto Salomon
Music by Julian Gerstin
Puppets by Ines Zeller Bass and Jana Zeller
Film by Haptic Pictures

Photo by Willow O'Feral

Rock the Boat, film commissioned by UMass Fine Arts Center (FAC)
Artist Bios
Eric Bass, Co-Director
Co-Founding Artistic Director of Sandglass, has worked for over forty years as a director, playwright, performer and mask and puppet maker. In 1982, Mr. Bass founded Sandglass Theater in Munich, Germany, with his wife, Ines Zeller Bass. As a stage director, Eric has worked on four continents and his signature solo work, Autumn Portraits, toured around the world for three decades. His international projects include co-directing The Story of the Dog with Sovanna Phum Theater in Cambodia, Natan el Sabio with Teatro Luis Poma in El Salvador, and a puppet production of Tennessee Williams Glass Menagerie for Theater Waidspeicher in Germany. Eric toured for six years in the Sandglass production of D-Generation: An Exaltation of Larks, a piece about people with dementia, and continues to travel with Babylon, journeys of refugees, Sandglass' puppetry and song exploration of the issues of fleeing war and violence and of how asylum seekers are received in a new homeland. Eric served for five years on the board of the Network of Ensemble Theaters. In 2010, he received the Vermont Governor's Award for Excellence in the Arts. Eric is currently working on a new production with playwright and performer Linda Parris-Bailey from Tennessee. The piece, Flushing, explores the importance of things and values that we pass on to the next generation.
Ines Zeller Bass, Co-Founding Director
Ines Zeller Bass, Co-Founding Artistic Director of Sandglass, has been performing with puppets since 1968, when she became a member of the Munich marionette theater, Kleines Spiel. In 1978, she created her children's hand puppet theater, PUNSCHI, which has toured Europe, Australia and the US. In 1982, Ines co-founded Sandglass Theater with husband Eric in Germany and moved the theater to Vermont in the mid-1980s. Ines started Sandglass Theater's program for family audiences. Together with Eric, she teaches their approach to puppetry performance and devised composition in workshops in Vermont and abroad. She designed the puppets and set for Natan El Sabio, a collaborative project with Teatro Luis Poma in El Salvador. Ines' puppets and design for Babylon, Sandglass Theater's production, include two of her many crankies. Ines has last been touring with Sandglass' production of D-Generation, An Exaltation of Larks, a piece about people with dementia. She is an UNIMA citation winner and in 2010, received the Vermont Governor's Award for Excellence in the Arts. Ines has retired from touring but is still very connected to Sandglass through her designs and puppet building, including puppets for Eric's new collaboration with playwright and performer Linda Paris-Bailey. Ines has also built the Little Merrill puppet for Tune Yard's new music video.
D. Colin, Poet
Originally from Bridgeport, CT, D. Colin is a poet, actor, and visual artist living in Troy, NY. As a multidisciplinary artist, she aims to inspire, empower and educate through poetry, paint and performance and is passionate about cultivating space for stories, healing and community. She is the author of two poetry collections, Dreaming in Kreyol and Said the Swing to the Hoop. Since 2016, D. Colin has been running Poetic Vibe, a weekly open mic voted best in the Capital Region in 2019.

D.Colin has been involved with theater since 2009 writing and acting with Black Theater Troupe of Upstate NY, Sandglass Theater, and Creative Action Unlimited among others. Her own original play,
Simone
, debuted at Capital Rep Theater in 2019 and she has received the League of Women Voters Presidential Award for her reenactments of
Sojourner Truth
. In 2019, D. Colin was honored as Resourceful Woman of the Year in the Arts by YWCA-GCR and one of The Collaborative's Creatives under 40.

Julian Gerstin, Composer
Julian Gerstin, composer/percussionist, has appeared with bands ranging from the traditions of Martinique (where he lived for two years), Cuba, Puerto Rico and Ghana to experiemental jazz, afrobeat legends Orlando Julius and Baba Ken Okulolo to punk icon Richard Hell, and has worked with musicians from Iran, Egypt, Lebanon, Macedonia, Bosnia, and many other countries. Julian's current major project is the Julian Gerstin Sextet, which has released two CDs of his jazz-meets-world music compositions. He holds an MFA in Music Composition and a PhD in Anthropology, and has published in numerous academic journals. Since 2010 Julian has served as President of the Board of the Vermont Jazz Center, where he also teaches.

The Ensemble
Shoshana Bass, Performer
Shoshana Bass is co-Artistic director and ensemble performer with Sandglass Theater in Putney, Vermont in the United States. She grew up touring internationally with the theater founded by her parents and now performs their legacy work as well as her own devised work. Her training consists of a range of physical performance disciplines spanning across theater, dance, puppetry and circus. She works as a performer, teacher, director and choreographer around the world. She is the director of Sandglass' Puppets in the Green Mountains International Festival, and produces programs and events in puppetry for all ages.
Kalob Martinez, Performer

Kalob Martinez is an actor who combined his professional interests in stage combat and voice acting and found puppetry. His solo show, El Beto stands as the culmination of his theatrical endeavors in puppet arts, and in 2019 he received a Jim Henson Foundation grant for this show. He is currently an associate artist and ensemble member of Sandglass Theater's, Babylon: journeys of refugees, and plays the Hippo in Sandglass' virtual production for young audiences of Rock the Boat. He voiced and served as the puppeteer for Arthur Fiedler twice with the Boston Pops as narrator for Peter and the Wolf and A Visit from St. Nick. He is currently a Company Artist for the Classical Theatre Company (CTC) in Houston,TX, and for five seasons (2008-2013) he was an Associate Artist. In 2020 his work for CTC's Peer Gynt was awarded Best Use of Puppetry by the Houston Press Theatre Awards. He has performed as the mascot, Buster Brackets and Fantasy Frank, for the Tournament Marathon Challenge (2017-2019) and the Fantasy Football Marathon (2018) both on ESPN.
Kaitee Yaeko Tredway, Performer
Kaitee Yaeko Tredway is a puppeteer and theater maker. In addition to Rock the Boat, Kaitee also appears in Sandglass's production of Babylon: journeys of refugees. In the fall of 2019, she performed in the ensemble of Martin P. Robinson's All Hallows' Eve. Her original work to date consists of short-form puppet pieces presented at puppet slams in both Boston and NYC. She has studied with international puppet artists Hugo & Ines and Yael Rasooly at the National Puppetry Conference at the Eugene O'Neill Theater Center. Credits on stage and behind the scenes in Boston include the Lyric Stage Company, Company One, imaginary beasts, and Wheelock Family Theatre. You can find her online at www.kaitee-tredway.com.