A Rafter of Crankies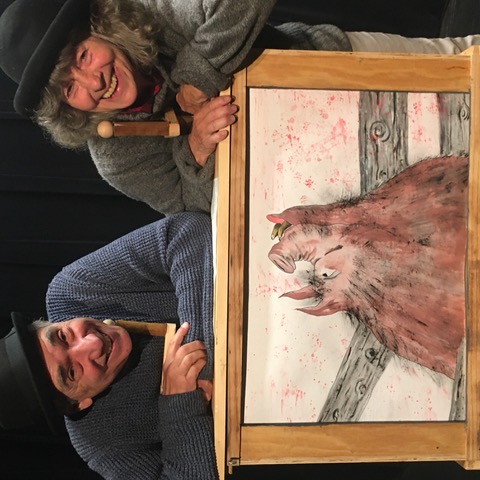 The Big Pig by Eric Bass and Ines Zeller Bass. Photo by Shoshana Bass

About the show
A Rafter of Crankies at Green Mountain Orchard
As part of the 2021 Putney Craft Tour
Friday, November 26, 2021 7 PM
Saturday, November 27, 2021 5 & 7:30 PM
Featuring the work of Anna Patton, Brendan Taaffe, and Ines Zeller Bass and Eric Bass.
Tickets $10 available online through Friday 11/26 at 12PM and at the door (cash and checks only at the door). Capacity is limited to 40 people per performance.
Geese fly in Gaggles and Crows in Murders. Turkeys hang out in Rafters. That's the collective name for our favorite Thanksgiving bird. And so, in honor of this weekend of the Turkey, a bird of this continent, Sandglass has put a grouping of crankies in a Rafter and is taking them to Green Mountain Orchard for a special show featuring Anna Patton with singers Arthur Davis and Emma Schneider, Brendan Taaffe, and Ines Zeller Bass and Eric Bass.

Heating will run before and between shows. So the temperature in the building should be somewhere between outdoors and cozy. Bring layers! Coffee and baked snacks will be available by donation.
Health and Safety Protocols: there is a maximum audience of 40 individuals. All audience members will be required to show proof of vaccination or a negative COVID PCR test within the last 48 hours at the door and to remain masked at all times while inside the building. We appreciate your continued vigilance and efforts to keep us all healthy and safe.
REFUND POLICY: Refunds may be requested for any reason 24 hours in advance of this event for which patrons have purchased a ticket or at any time if a ticket holder receives a positive result on a PCR test within 48 hours on a performance.

Thank you to our funders
This project is funded in part by a Small Business Administration Shuttered Venues Operators Grant.