About the Program
Thank you all for joining us on this journey as we navigate offering events and projects digitally. Here you will find links to live streamed Parent/Child Puppet Craft projects with Shoshana and Jana on Thursdays at 2 PM on Facebook. Activities change weekly.
May 28
Shadow puppets
This week we will explore the world of shadow puppets! Create a beautiful little shadow box and animate 2-dimensional puppets on a screen.

Materials
A cereal box
Thin tracing paper (Any paper which is semi translucent when held up to the light)
Masking tape
Wire

Tools:
Scissors
Pencil
Wire cutter
Light source: either a projector or a small lamp, even a candle will work
May 21
Jack-in-a-cup
Materials
Recycled to go coffee cup
Wooden chopstick
Swatch of fabric
Thin string or embroidery thread
Poly fill or tinfoil or newspaper for stuffing
Felt or other decorating materials

Scissors
Hot glue
Optional acrylic paints
May 14
Felt Finger Puppets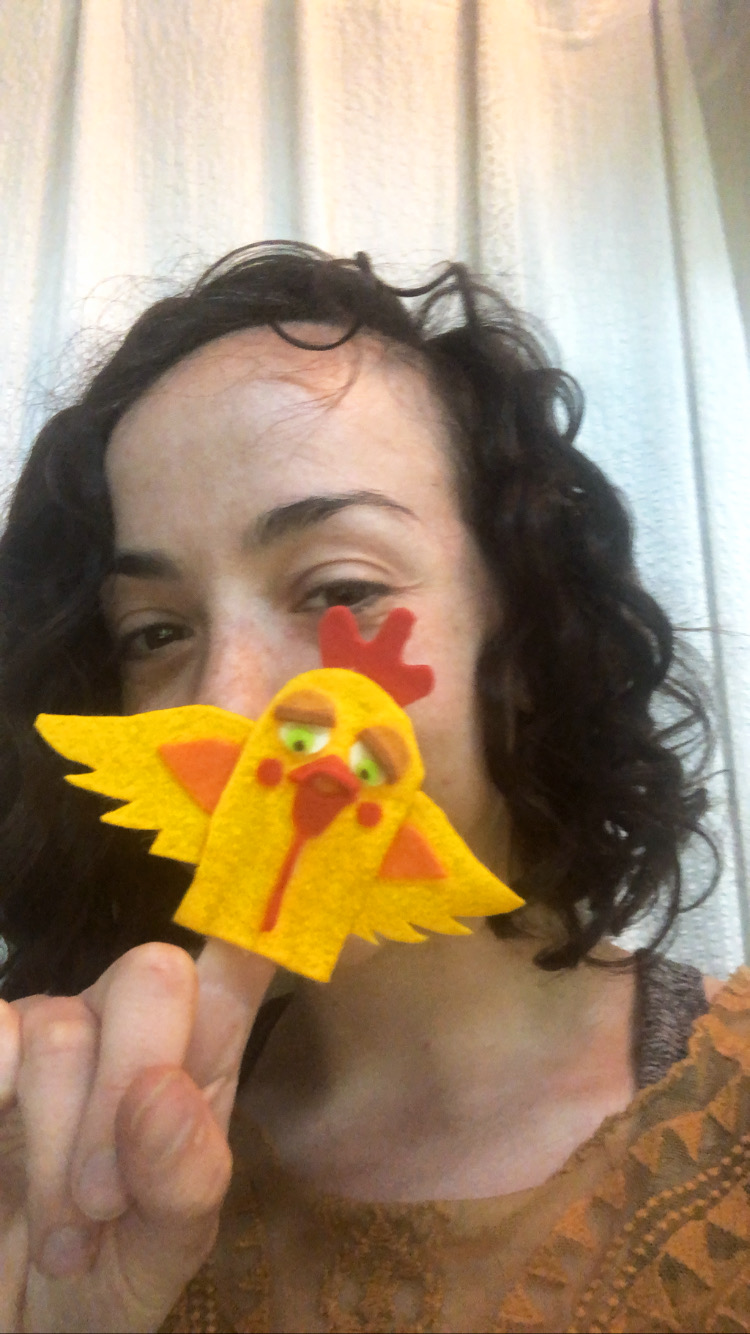 Make the creature of your choice perfectly fitted to your finger. Make 5 and you'll have a whole handful ready to perform in your own miniature puppet show!
This is a great project to use all your leftover fabric scraps.

Materials:

Felt or thick construction paper
Scissors
Hot Glue gun
May 7
Paper Bag Mask
Materials
brown paper shopping bag or any brown paper bag that fits over your head
masking tape
black marker
newspaper paper
acrylic paint
brushes
colored construction paper
optional: toilet paper rolls for hair
Tools
scissors
hot glue gun
glue sticks
April 30
Flip Jacks!
Build a jolly, dancing character out of paper!
Materials: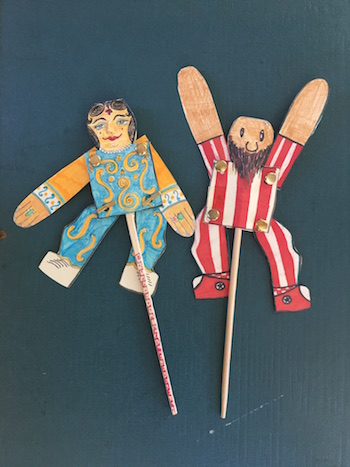 TEMPLATE
VIDEO

April 23rd
Laugh and Cry flippers
Materials: A chopstick, construction paper, scissors, markers, white or hot glue.
April 16th
Simple marionette
with special guest Ines Zeller Bass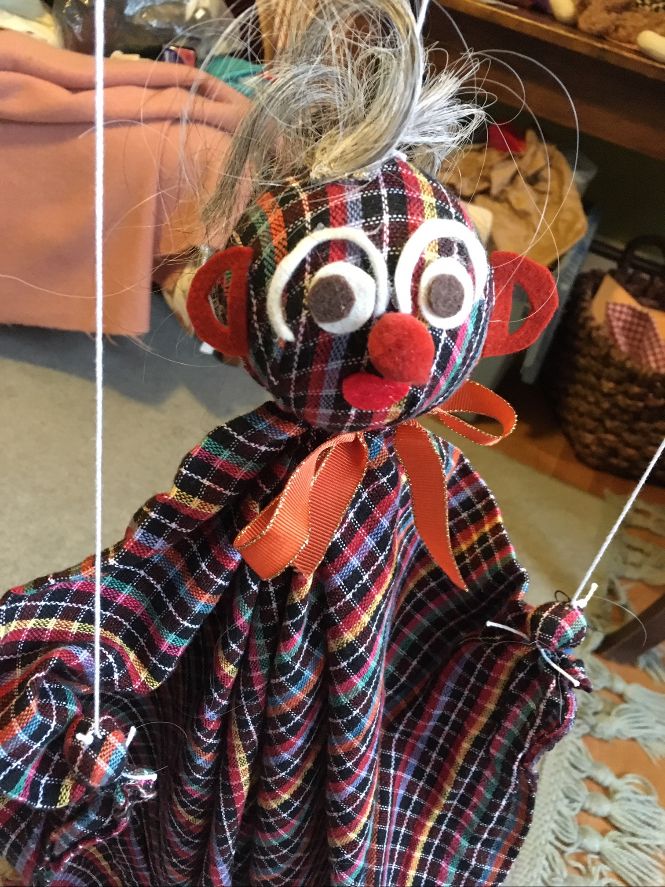 Materials for body:
Piece of rectangular fabric which drapes well. Can also be a scarf from your closet. Should be 36" wide.
String that does not break.
Aluminum foil, tissue paper or napkin
Piece of cardboard about 6" long and 1.5" wide, a dowel ( about 8" long) or a stick from your yard (same size as dowel)
Beads with hole to fit string through
For eyes and nose:
Felt, Pompoms, Buttons, or Ribbon
Hair:
Yarn, Piece of fur, or whatever makes hair
Tools you will need:
Needle with big eye, Scissors, If possible hot glue and glue gun, otherwise white glue, Measuring stick
April 9th
Egg people
Materials: Minimum of 4 hard boiled eggs, egg dye or food coloring, construction paper, scissors, pencil, colored pencils, markers, hot glue or white glue.

April 2nd
Tape Guys
Materials: A cardboard toilet paper roll, masking tape, tin foil (or something similar you can crumple into a ball), a single chopstick/thin stick/popsicle stick, scissors, sharpies/markers, anything else you like to use for decoration (gems, yarn, sequins, pom poms, etc), hot glue or white glue.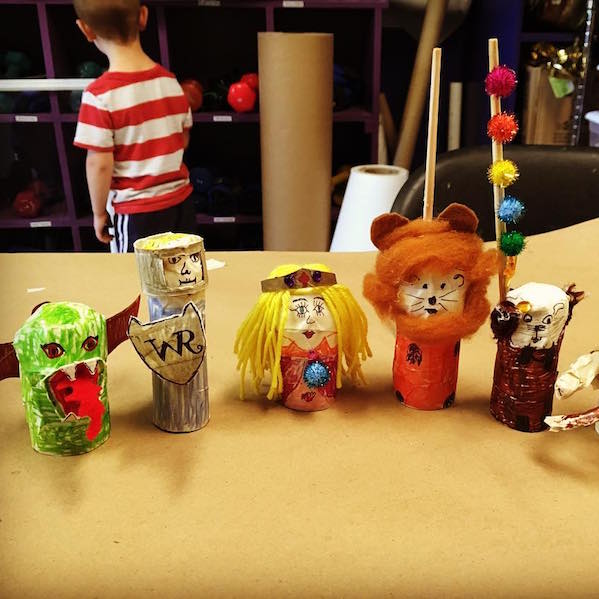 March 26th
Weisenheimers
Materials: construction paper, preferably in a variety of colors, scissors, a glue stick or white glue, and whatever decorative additions you have (googly-eyes, pom poms, sequins, etc).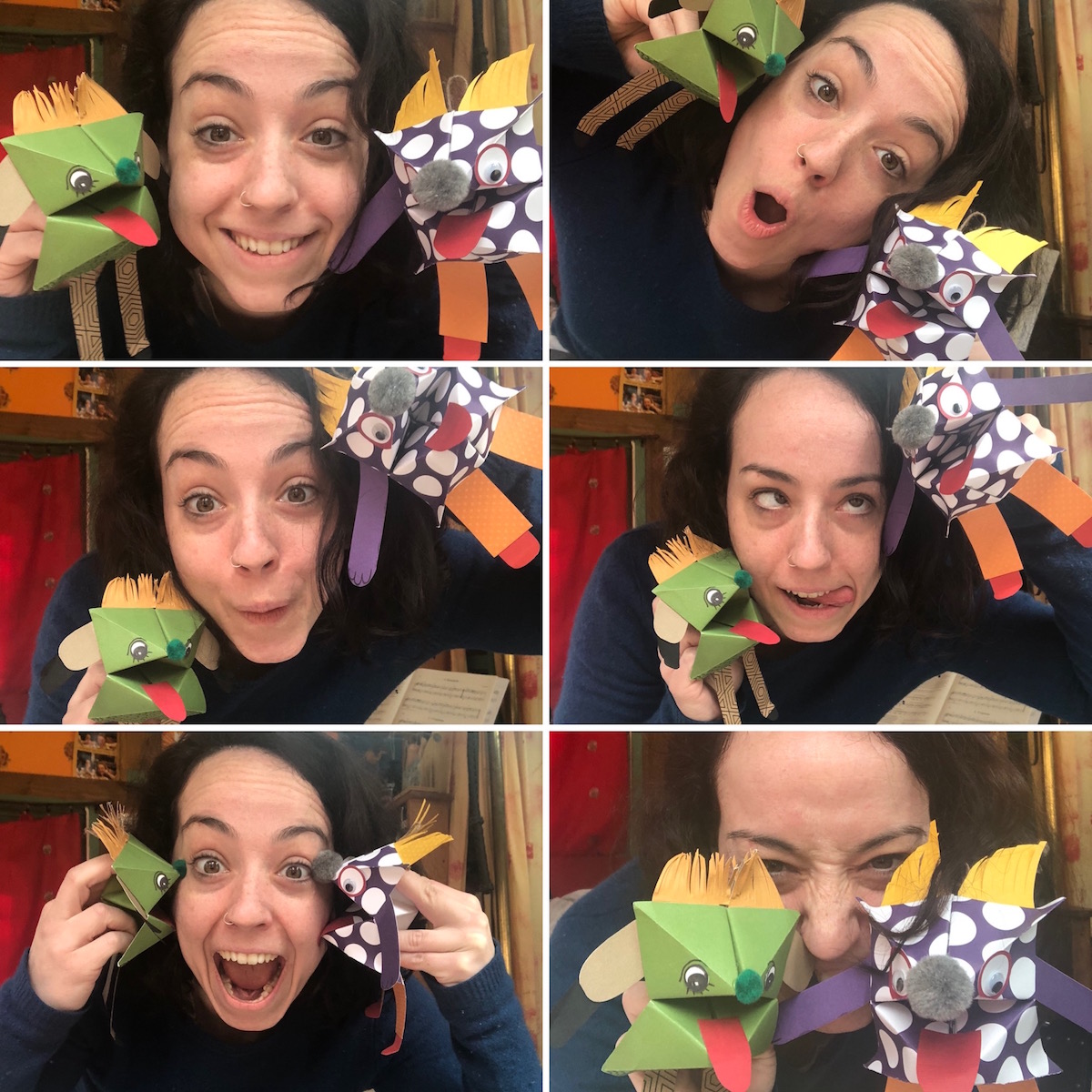 March 19th
Finger-legged puppets
Materials: Download the template, markers/colored pencils, and scissors