Puppets in the Green Mountains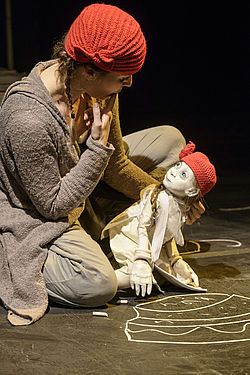 About the event
Puppets in the Green Mountains
Roots & Wings
September 8 – 13, 2020
There are two things parents should give their children roots and wings. Roots to give them bearing and a sense of belonging, but also wings to help free them from constraints and prejudices and give them other ways to travel (or rather, to fly). -Goethe
Sandglass Theater's Puppets in the Green Mountains international puppet theater festival is a premier attraction in Southern Vermont. Since 1997, the festival has welcomed some of the world's best puppet artists from nearly every continent, drawing a diverse audience from all corners of New England, Quebec, New York City and beyond.
Inspired by Goethe's words, which take on a contemporary urgency, the 2020 festival will spotlight the ROOTS of our shared history and place and the WINGS that allow us to dream and build for the future. Events will address issues around indigeneity and first peoples, race, home, legacy and identity and will include performances, workshops, installations, community dialogues, keynote speakers, puppet slams and an array of other exciting events!
A full list of events and programming will be announced in May 2020.

All venues in the Puppets in the Green Mountains festival are wheelchair-accessible. Assistance can be provided for priority seating and parking. Select shows are offered with ASL interpretation. Sandglass welcomes people of all abilities, and strives to provide programming that is inclusive and accessible to all.
For more information visit puppetsinthegreenmountains.net
Thank you to our funders
The 2020 Puppets in the Green Mountains is made possible with the generous support of Sandglass Theater's funders, sponsors, board members, and volunteers. Funding for the upcoming festival is provided in part by The National Endowment for the Arts ArtWorks, The Clowes Fund, The Vermont Humanities Council and by Puppeteers of America. Funding for the 2018 festival was provided in part by The Clowes Fund, The Bay & Paul Foundation, The New England Foundation for the Arts, Puppeteers of America, The Thomas Thomson Trust, The Vermont Arts Council, The Vermont Community Foundation, Taipei Cultural Center, the Windham Foundation, Chroma Technology, Brattleboro Savings & Loan, as well as local supporters and sponsors.